Drink drive accidents in 2012 accounted for 4% of all road accidents according to figures released by the Department for Transport.
An estimated 290 people were killed in drink drive accidents in Britain last year – up by 26.1% on 2011.
However, the 2012 provisional figures and the finalised estimates for 2011, published on 1st August 2013 by the Department for Transport (DfT), show that the total number of drink drive accidents decreased slightly in 2012.
There were 6,680 drink drive accidents in 2012, accounting for 4% of all road accidents. The figures also show that despite the total number of these types of accidents decreasing slightly in 2012, the number of fatal accidents increased by 15% since 2011.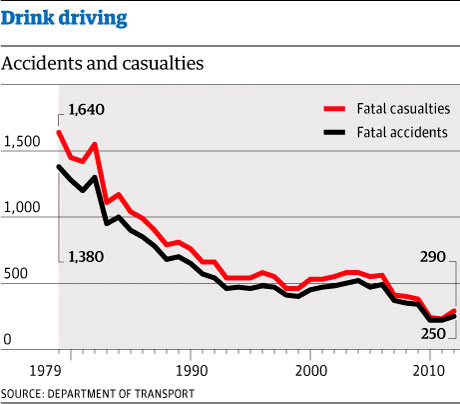 Fatal drink driving accidents and casualties graphic by Christine Oliver.
The number of fatalities resulting from drink driving in 2012 accounted for around 17% of all reported road fatalities. The DfT confirmed in today's release that the revised 2011 total (230 fatal casualties resulting from drink driving accidents) was the lowest figure recorded since records began in 1979.
Overall, the number of accidents involving drink-driving last year decreased – down from the 2011 figure of 6,690 to 6,680 in 2012. The chart above shows how the number of fatal drink driving accidents and fatal casualties has changed over time.
The chart above shows the longer term trends. In 1979, when detailed reporting on drink drive accidents and casualties began, there were 1,640 reported fatalities. The 2011 and 2012 figures are around six times lower than this. In fact in 1979, drink drive accidents accounted for around a quarter of those killed on the roads according to the DfT.
So, despite the provisional figures suggesting an increase in 2012, compared with 2011, the total number of drink driving deaths is around 25% lower than that recorded in 2009 and almost 40% lower than the 2005-2009 average.
The number of those seriously injured decreased from 1,270 in 2011 to a total of 1,210 reported for 2012.
According to the DfT, 68% of those killed in drink-drive accidents were drivers and passengers over the legal alcohol limit. The remaining 32% were other road users involved in the accident but not necessarily over the legal limit themselves.
Source: Article originally published in The Guardian